I lived in New York City my entire life, until a week ago.
Here's the thing about New York City.
Everyone there is simultaneously super busy and on their way somewhere very important.
Eye contact is rare, slowing down is a sign of weakness, and the common refrain is "I wish i could sleep but I've been invited to so much stuff tonight!"
There is often a misguided pride in how difficult ones life needs to be in order to "make it" in NYC (hey, they didn't put it in a song for nothin'). Rents are high, most salaries barely cover expenses, and hey, good luck having a social life with the 80 hour weeks your employers expect you to work.  Hey, is that an email from the office on your phone?
This is not, as it turns out, a particularly ideal environment for someone who does not thrive on high-stress, high-pressure environments.  Needless to say, I've been looking for an opportunity to get out of NYC for awhile now.  It looked like I might have the opportunity to relocate to Seattle for work in 2010, but that did not end up panning out.
So when my girlfriend (well, Domestic Partner, technically) was accepted to Georgia Tech's Digital Media graduate program, I can honestly say that although I was sad to leave my local friends and my family, the prospect was more exciting than scary.
Well, fast-forward to today, and we've been in our new place for a little over a week.  It's the first floor of an awesome old house from 1910, with real wood floors that creak and more rooms than we know what to do with.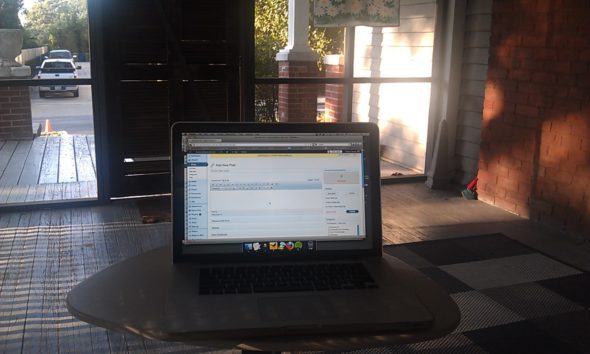 And so here I sit on our screened porch, cup of tea in my hand (sweet, of course), writing to you to let you know this simple fact, oft repeated and always valuable.
A quiet life has value, too.
Being far away from the cult of social-media-for-its-own-sake (that even the most adamant long-time supporters and friends have distanced themselves from lately), away from self-serving digital marketing, away from crowded streets and heads-buried-in-phones and startup launch parties creates space to be and do what is real.
To really experience, right here.
To not be on the way somewhere more important.
I don't know anything here.
I don't have friends here yet, don't know where to get good sushi, don't even know how to drive yet.
As someone whose main driving force is curiosity, this excites me.
I have beginner's mind.
A quiet life right now sounds amazing.
P.S. A little professional-life update, while I have your attention:
On a practical level, my plan is to put my connecting and listening skills as well as my website building talents to use doing some freelance WordPress design and development work.
Some friends gave me an opportunity to redesign Ian Hunter's site, which I think came out pretty well.   If you're in the market for a site, obviously I'd love to hear from you.
As for Deeper Context, that will continue as well in a different capacity. More to come.