*deep breath* OK.
The Origin Story
As many of you know, I spent most of 2011 searching for work, after my time at Waggener Edstrom came to an end.  After a lot of soul-searching (and even more job board searching), I realized that the perfect job for me was not out there, so in September I decided to create the job I wanted.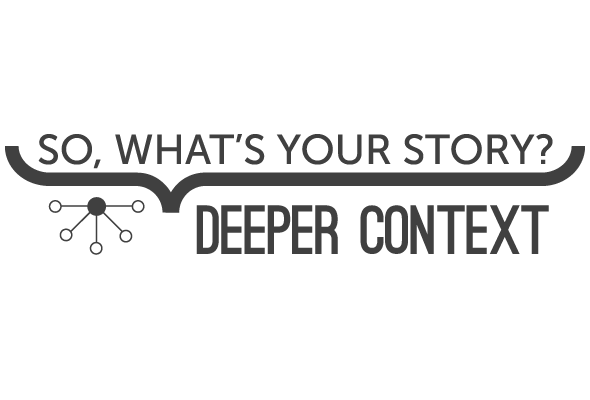 As my professional passion has been feeding people's curiosity through well-told and passionate anecdotes, I decided to make that the core focus.  It just so happened that I'd conceived of and registered the perfect name and url for the project several years ago: DeeperContext.com.
The most challenging part of getting Deeper Context up and running since my decision to start has been clarifying my vision in terms that actually describe what I find so rewarding about talking to people about the things they love, and explaining why I think its so valuable for potential clients to embrace this kind of conversation in their marketing efforts. I realize that I've blogged a lot about these issues right here, so I wont rehash them (you can click on the sidebar to read any of the posts I'm talking about), and I'm working toward having Deeper Context embody as many of them as possible.
Defining Terms: What is Deeper Context
To quote myself:
We produce mini-documentaries that reveal and explore the human themes within your brand.  These stories excite existing fans — and attract new ones.

DEEPER CONTEXT develops and produces non-fiction audio and video series for the web and portable devices.  Our focus is on the personal experiences of carefully selected interview subjects who are passionate about the world your brand inhabits. They are delivered in a personal, intimate and conversational tone, that resonate emotionally with people in a way that a list of features and benefits cannot.
The website includes a mission statement, some conversation about the value of my work to potential clients, and a portfolio of some of the work I've done in this vein (mostly as an employee of Sony Music, though I hope to have that remedied as the weeks and months go by), which I do hope you check out. I would greatly appreciate any feedback, advice or suggestions you may have to offer me as I begin this journey.
My Hope For Your Involvement
I have two things to ask of you, dear reader, dear friend.
If my undertaking seems like it might be of value to your or your organization, or if what I'm working on trip some synapses in your head that lead to you having suggestions or recommendations for me, please do let me know.  I'm looking for a few "seed" projects to build up the portfolio and get some good practice in interacting with clients who I consider friends.  I'm also looking for people to partner with, and am quite open to value exchanges.
From time to time, I will be stuck lost and confused about what to do next (okay, let's be honest, it's going to be a regular occurrence).  Starting a business is a tough process for which there is no foolproof method, as I've learned already.  If you're in a similar position, don't keep it to yourself.  Talk to me, blog about it, Skype with a friend, SHARE what you're learning.  I will do my best to do the same.
What's Next For My Writing
For those of you who are RSS subscribers (and I know there are a few), you may be interested in the fact that I've launched a redesign of jeremymeyers.com, putting more posts front-and-center in a magazine-style format.  This stems from the fact that I am not the worlds most prolific blogger (choosing to post only when I feel I have something worthwhile to say), and the reverse-chronological layout I had previously did not really provide access to all the useful posts from the archives.  I've re-categorized 10 years worth of posts to consolidate the main topics down from 23 to 7, and I hope that it proves useful.
I plan to continue blogging here at jeremymeyers.com, and will also be posting more tactical stuff about digital storytelling dos and don'ts over at the Deeper Context blog (which is a little barren at the moment, but I have big plans for it!)
The Thank You's
The road ahead is exciting and scary, but a few people have helped me along through this process that I would be remiss in not mentioning by name.
So, that's what I've been up to, and what I will be up to for the foreseeable future.
Wish me luck!
Save