[This post inspired by a post that Rich Millington wrote about Why Most Companies Shouldn't Try To Create an Online Community]
Most organizations really want a big following, not a community.

A following is an audience that interacts with you. A community is an audience that interacts with each other.
One of the things I've been thinking a lot about in my capacity as a digital strategist is the choices companies make with regard to how they position themselves within the communities they enable. I think as an industry we may be doing a disservice to the overall success of these communities by not stressing the following point:
Even though you are the creators of the ecosystem, that does not mean you are the most essential part of the discussion.
In fact, taking a stance "above" or "apart" from the rest of the community will only detract from people's willingness to engage. Nobody likes to feel like 'big brother' is there, or that they're being talked down to. This is another example of 'us vs them' thinking.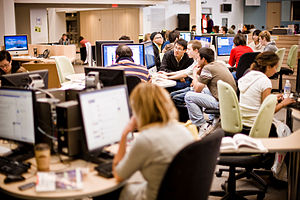 Whether people choose to start conversations or not is a function of how you position yourself within the community. If you are the 'voice of God' and 'the one with all the cool stuff, tips and tricks, and information,' of coursepeople aren't going to chat. You've made it clear with your tone that you don't need their help, you can handle it all yourself. People respond to that by going elsewhere.
Instead, consider become a person-sized atom of your community. Answer questions, yes. But also respond to unrelated comments, ask people for advice, take your cues from what people are talking about.
Pretend you're not the administrator, just be a fellow user who happens to have access to some of your companies resources. The only special power bestowed upon you as an administrator is control over the technical parameters of the community. Your voice in the conversation is exactly the same as anyone else.
You will be much more valued as a humble human presence that is there to learn and grow and be inspired by those who choose to spend their time with you than anything you could say as 'the authoritative voice of your product with all the answers'.
Or you could continue to build a "following" of people who don't really care all that much.
Up to you.
Related articles by Zemanta